Custom Sweeping Service –
Our Name Says it All!
Custom Sweeping Service has provided a wide variety of power sweeping, as well as other snow plowing, hauling and allied services, for over three decades. Our service area is centered in Terre Haute and extends throughout the surrounding area.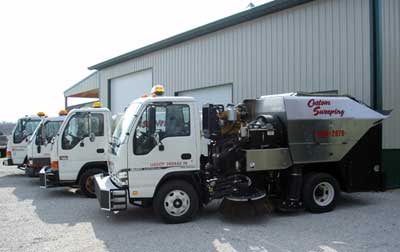 We are a full-service company that provides our customers with the professional sweeping and other services they need to keep their property in top condition. And, because we notify clients immediately when we see anything out of the ordinary or in need of repair, when you specify Custom Sweeping Service you will keep overall sweeping and exterior maintenance costs to a minimum.
There are many reasons why a regularly scheduled program of power sweeping is one of the most cost-effective things you can do for your property and your tenants.
As you might imagine, after 30 years of providing sweeping to our customers we know them all! For more information on the many reasons to have your property's pavement regularly swept – other than because of the overall beautification sweeping provides – we invite you to take a look at our PDF handout on this topic.
Our Services
We provide power sweeping, as well as related services, for a wide range of commercial properties. Typical customers include:
Churches
Roadways
Shopping Centers
Parking Areas
Subdivisions
Construction Sites
Business Properties
Factory Parking Areas
Our typical sweeping routine for clients includes all parking lots and ingress areas. This keeps your property looking its best and creates an inviting, safer environment for your clients. In addition, we often provide the following for our customers, as well:
Handpicking any litter from shrubbery and landscaping.
Removing any weeds growing through cracks in pavement.
Emptying trash containers on the premises.
Cleaning around dumpster and dock areas.
Hauling away any debris dumped onto your property.
As our name implies, Custom Sweeping Service offers a number of sweeping service options, including daily, weekly, biweekly, monthly and as needed. Our proven expertise and experience can assist you in all of your sweeping requirements in commercial, retail, residential complexes and streets and roadway sweeping.
Our Service Philosophy
Enhance the appearance of your premises.
Help reduce wear and tear of your parking surface by removing accumulated sand and grit.
Reduce your exposure to liability by removing hazardous objects such as broken glass and rusty nails from the parking lot surface.
Keep customers updated on current and projected property needs so as to minimize overall CAM costs.
Our Trained Employees
Provide high quality service.
Are trained to watch for any items out of place or in need of repair on customer properties.
Promptly notify customers in the event of lights out, signs down or other hazards.
Perform their work in a professional manner at all times.
In Addition to Sweeping, We Also Provide
Snow plowing,
Dump truck hauling,
Pothole repair,
Loader service.
Let Us Know How We Can Assist You
We offer sweeping frequencies and value-added service programs to suit our customers' exact needs. Your satisfaction is always our top priority.
Our sweepers feature rotating gutter brooms that will clean your curb-line for greater curb appeal. Backpack blowers are used prior to sweeping for hard-to-reach areas such as corners, gated areas and covered parking.
We use only the most advanced air sweepers, ones that are capable of picking up any loose material from the pavement. By removing even the small particles in pavement cracks, the chance of slip-and-fall accidents is decreased considerably.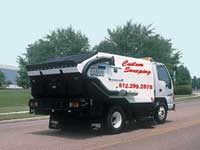 Call 812.299.2878 or send us an email to get your questions answered or to receive a FREE professional assessment of your needs. We offer sweeping frequencies and value-added service programs to suit our customers' exact needs. Your satisfaction is always our top priority.